AGENDA:
5:30-6:30pm ... President's VIP Reception for Past Presidents and Board Members (invitation only)

6:30-7:30pm ... Cocktail Reception and Entertainment

7:30pm ... Dinner, Board Installation and Chapter Awards of Excellence

After Party will take place following dinner and awards
You won't want to miss the event of the year! We will be celebrating 50 YEARS of excellence and history. The evening will include our annual awards presentation and installation of our 2019 Board of Directors. In addition we will be stepping back in time with wonderful memories and honoring our illustrious Past Presidents, Leaders, Volunteers and Chapter Members.
Stay the night and join us for an after-party in the Sands Ballroom! The Hotel Valley Ho is offering us a great rate to stay overnight. In order to get the discounted rate of $139 (resort fee is waived) you can make your reservation by calling 480-376-2600.
ATTIRE:
Black Tie/Cocktail
COST:
$70 Per Person
$45 Per Student Member
The Sands Ballroom is just east of the hotel lobby – entrance off of 69th Street
There is plenty of parking near the ballroom or you can valet park at entrance of hotel.
Awards to be Presented:
Hospitality Sales & Marketing Professional of the Year
General Manager of the Year
Sponsor of the Year
Committee of the Year
Rising Star
Hospitality Student of the Year
Revenue Management Professional of the Year
Shining Star
Host Property/Venue of the Year
President's Achievement Award
THANK YOU TO OUR SPONSORS:
Encore Event Technologies
Hotel Valley Ho
Michael Powers Music
PacRim Marketing Group/Barry Nakano
Paper Crazy
Pixel Photography/Flash Gordon
Ray the DJ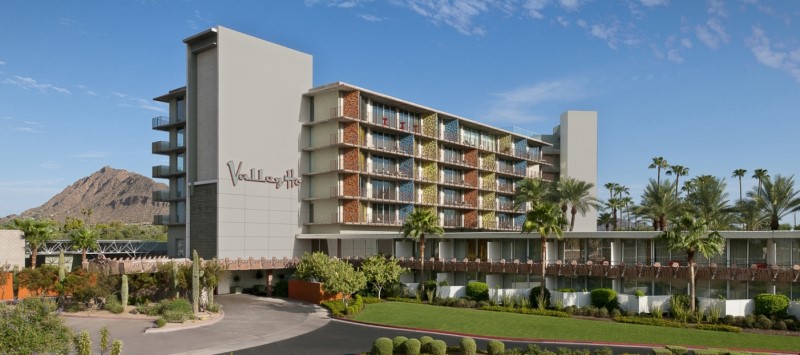 ABOUT OUR VENUE
Hotel Valley Ho
Originally opened on December 20, 1956, Hotel Valley Ho has classically cool roots and stands as a modernist icon in Downtown Scottsdale. Owned by John B. Mills, along with Robert Foehl and his wife Evelyn, it was built on the belief that "the important thing is to make your guest feel wanted." The architect, Edward Varney, was known for his cool, minimalist style.
Hotel Valley Ho was a true Hollywood hideaway in its heyday, host to Bing Crosby, Tony Curtis, Janet Leigh and Zsa Zsa Gabor, among others. Celebrities loved that the paparazzi would not follow them to Scottsdale. Ramada acquired the hotel in 1973 and renamed it "Ramada's Valley Ho Resort." Over the years, some of the classic design elements were altered and the hotel lost its luster. In 2002, the property went up for sale. Local company Westroc Hospitality worked to restore the hotel to its mid-century splendor and continues to manage operations.
Reopened on December 20, 2005, Hotel Valley Ho shines brighter than ever with notable additions including ZuZu, VH Spa, and the OH Pool. Named "one of the best-preserved mid-century hotels in the country" by author and architect Alan Hess, Hotel Valley Ho is the place where your cool comes out to play. Additional information is available at https://www.hotelvalleyho.com.