2005 INDUSTRY FORECAST
A January Meeting Recap
by Sarah Bailey, ARAMARK Parks & Resorts
Here we are in 2005 looking for reassurance that, yes, the hospitality industry is trending up and finally the news is positive. Although the market may never go back to pre-September 11 days ... don't we expect that? After all, the market continues to shift and change and we must learn to adapt.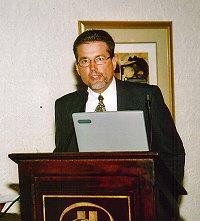 Robert Hayward with Warnick & Company provided us with an encouraging recap of 2004. With a decrease in room inventory in the Phoenix market due to the closing of several properties and an increase in demand, we saw positive growth and a strong ADR. Demand growth continued to strengthen and outpace supply in 2004 eclipsing 1999 and 2000. Not factoring in inflation, average rates remain below 1997 rates, however, the stronger rates contributed to RevPAR being up. RevPAR remains at 1995 levels with the impact being from ADR and not occupancy. In the resort market RevPAR is up by 10.5% in 2004 after a decrease in 2003. The Phoenix market faired well in comparison to the United States with occupancy equaling 1997 & 1998.
The current market issue continues to be average rate growth. The biggest challenge going forward is building and maintaining rate integrity. We are still factoring in groups booked at lower rates which will affect future rate growth. Over the next three years we'll continue to see RevPAR increase due to rate increase. Both nationally and locally our economy is strong and continues to diversify. High expectations for 2005 and 2006 have the market poised for continued growth in all sectors. Although we won't see it in the immediate future it's only a matter of time before new development begins due to market dynamics and available finances. Phoenix is targeted for development with our convention center expansion and a new 1,000 room hotel coming in 2008 meeting the market's expectations. We continue to be a desirable location with tourist and group markets that are trending towards spa destinations. New resorts in the area will continue to enhance the destination appeal of Phoenix.
Stronger occupancy is anticipated across all product sectors which tells us rate growth will follow. In essence, it takes us back to our college economics class, the classic supply and demand graph that was burned into our brains. As our economy strengthens, demand increases, which eventually leads to an increase in supply. Look for the 2005 & 2006 season to continue to be optimistic with an increase in occupancy, rate growth, resort destination appeal, and longer booking windows. Change is a good thing.
A special thank you to our speaker, Robert Hayward, to the Pointe Hilton Tapatio for graciously hosting us, to Bill Johnson for the use of his LCD projector and to Richard Carmer, Photos Plus, for the photo memories.
Raffle donors were the Broadway Palm Dinner Theatre, HSMAI Communications Committee, Amara Creekside Resort Sedona, ARAMARK, Destination Arizona and SuperShuttle/ExecuCar.

Click here to download a copy of HSMAI's January Presentation!