HSMAI Leadership Forum
Orlando, Florida
by Pam Patterson, CMP
Each year HSMAI invites the chapter leaders to a special conference that is hosted by HSMAI as a way to thank all the leaders. Bob Holman, Pam Patterson, CHME, Cheryl Street, CHME, Tara Thain, CHME and Joanne Winter represented our chapter. This year's event took place at the Disney Coronado Springs Hotel in Orlando, Florida during the dates of March 8 - 10. At the event we were able to meet with other chapter leaders and some of our international chapters, which included Mexico, Canada, Singapore and Puerto Rico. We also had a special visit from the mouse himself, Mickey! We were quick to learn that our chapter is one of the nations best and other chapters want to know our "best practices". In addition to networking with other chapters, we had some wonderful speakers. They educated us on topics such as "partnering", current market trends and the new HSMAI Special Interest Groups, aka, "SIG's".
Best of all, was the awards dinner held in Disney's China Village at Epcot Center. Our chapter won seven out of nine awards and was recognized as a winner in the following categories:
FIRST PLACE - LARGE CHAPTERS:
Awards and Recognition Programs
Customer Interaction Events and Programs
Communications
Membership
HONORABLE MENTION (2nd PLACE) - LARGE CHAPTERS:
Education
Chapter Website
Leadership Development
For all these awards we owe a BIG congratulations to 2005 President Cheryl Street and ALL of you who worked so hard last year to help make this possible. Thank you!
We encourage all of our HSMAI Arizona Chapter leaders to attend the next conference in 2007 - location TBA. It's a FREE education, networking and professional development event (hotel & airfare are on your own). Consider attending the next one as it will be well worth you time!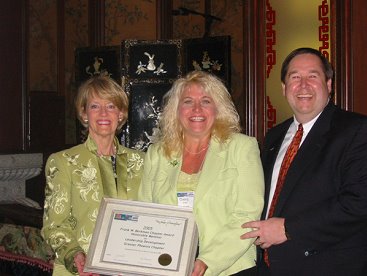 Cheryl Street (middle) receives one of many awards from Fran Brasseux and Bob Gilbert.

(l t r): Georgia Manous-Gessler (Indiana Chapter President), Cheryl Street,
Joanne Winter and Tara Thain at the Awards Banquet - Epcot Center.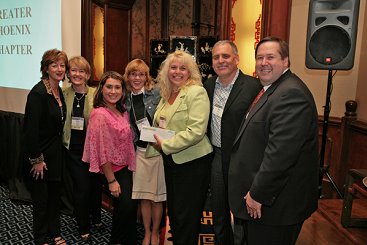 The Phoenix Chapter (now Arizona) receives First Place- Large Chapter for Membership Retention and Development. (l to r): Joanne Winter, Fran Brasseux, Tara Thain, Pam Patterson, Cheryl Street, Bob Holman and Bob Gilbert.