Making The Most of Trends, Forecasting & Pricing
A March Meeting Recap by Sarah Bailey, Lake Powell Resorts & Marinas
Consumer, competitor and pricing are the three key industry trends that are affecting today's forecasting and pricing strategies. We've conditioned our consumers to shop around through online and offline distribution channels in order to find the best deal available to them. They know that it pays to do their research. The sixth annual KPMG Global Hotel Distribution Survey in 2005 found that only 1% of hotels are priced consistently across all channels. Today's consumer expects to be treated the same regardless of the way they booked so it's important for us to be consistent with our offers.
"What matters most to people today is the idea of value, of getting the most for their budget at whatever level they are prepared to spend. People don't necessarily want the lowest price; they want the maximum value for their travel dollar." Phil Carpenter, SideStep, Today's Online Travel Consumer, Travel Professional, June/July 2004, Fred Gebhard.
S.W.O.T. analysis plays a key role in helping us decipher what strengths and weaknesses our properties have. We need to look at how our competition is utilizing technology, how the economy has affected travel, what changes are occurring in consumer behaviors and what promotions are most effective.
We are seeing large pricing variances across the board through all channels with best rates guarantees not necessarily followed, selling by room type and volume discounts for corporate clients depending on the time of year. Dynamic pricing models are becoming the norm and being utilized by corporations such as Marriott International and American Express.
All of these factors help us manage our revenue and inventory. Robert Cross, Revenue Management, Hard Core Tactics for Market Domination defines revenue management as the following: "Revenue management is the art and science of predicting real time customer demand at the micro-level and optimizing the price and availability of products."
The revenue management cycle model is an excellent tool for gaining insight and knowledge on what's working or not for your property and what key actions you can take to maximize revenue and product usage.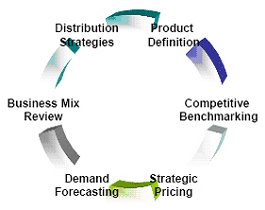 Many thanks to our presenter, Kathleen Cullen with Inspire Resources, to our friends at the Tempe Mission Palms Hotel for hosting our breakfast meeting, to Eric Bahr, Bahr Photography for the photo memories, to Bill Johnson, CSP for the LCD projector and to Clark Rowley, RRP, Scottsdale Camelback Resort, for hosting our NAU students.