April Event
Annual "Hog Wild" FUNRaiser
April 10, 2003
at Monterra at WestWorld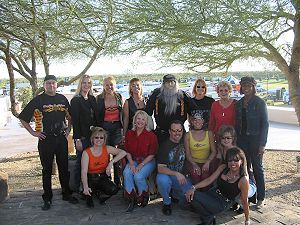 The Arizona Chapter held it's Second Annual "Go Hog Wild" FUNRaiser and Industry Networking Night on Thursday, April 10th at Monterra at WestWorld. This event, held in conjunction with Arizona Bike Week, drew over 100 local hospitality industry professionals for an evening of great food, music, networking and a silent auction.
Special thanks to our sponsors for the evening: America West Airlines, Bourget's of Arizona, Brede Exposition Services, Club Sunterra/Sunterra Resorts, Hacienda Harley Davidson, Photos Plus, Ranger Resources, Ray the DJ, Sacco & Associates and the many generous auction donors. And ... thank you to the dynamic Special Projects Committee for their hard work and support in putting on this successful event. Proceeds from the event will go to the Children's Angel Foundation and the HSMAI Education and Scholarship Fund.