May 2003 Meeting
"Selling in a Difficult Economy"

featuring very special guest
Sal Dickinson, CHME
Chairman, HSMAI Americas Board of Directors
A May Meeting Recap by Allison Reynolds, Broadway Palm Dinner Theatre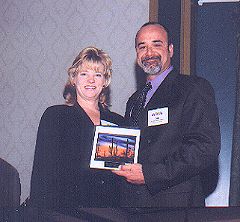 If you missed May's meeting, you skipped out on some sweeeeet ideas! There, our cravings for knowledge about about how to be more competitive during these challenging times were satisfied! We learned of seven key strategies for success. As stated by Sal, "the current state of the hospitality industry requires that sales and marketing professionals be more competitive." Sal Dickinson, CHME, is current Chairman of the Americas Board for HSMAI and Chief Executive of Dickinson & Associates, a "360 degrees" marketing firm with offices in Fort Myers and Hollywood, Florida. His firm provides both strategic marketing and sales counsel with integrated tactical services in advertising, Web/e-commerce, public relations, direct sales, telephone, special events, and direct marketing. Prior to founding of Dickinson & Associates, Sal was vice president of marketing for MeriStar Hotels & Resorts, Inc. He is a travel/tourism marketing and advertising veteran with more than 18 years of experience. Some of the general ideas presented include:
Commitment vs. complacency:
You must make an expressed commitment before you demand one from others; adopt the philosophy of BE WHAT YOU SEE IN ME; get out of your office and demonstrate selling and servicing.
Creativity vs. criticism:
Think out of the box; change your language and perspective: Be open-minded to new and old ideas - be a team player; Sal reviewed some significant statistics about how much Americans travel; proposed the gay & lesbian market as viable and profitable; also proposed new market: weddings/honeymoon
Partner vs. position:
Look around and partner up with similar businesses to promote each other
Resource vs. Reserve:
What are your resources?
What can you cut and/or freeze?
Look at technology and the NEW resources.
Cross-train vs. constrain:
Ensure you and your people are well-rounded, and enabled to make decisions. Knowledge and ability to perform a variety of tasks increases value to a company of any employee.
Lead vs. manage:
Show by example is still going to get the best results; meet their needs: Love Me, Notice Me, Recognize Me, Include Me, Believe Me
Give customers what they want!
What DO they want? a) Tangibles, b) Reliability, c) Responsiveness, d) Assurance, and e) Empathy
For more details, and/or for a print out of Sal's presentation, please contact Joanne Winter at
jojowin@aol.com
.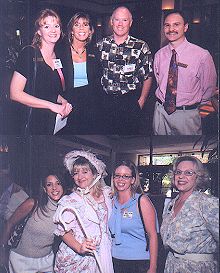 A BIG thanks to Sal for sharing some great ideas with our guests, to the Radisson Resort & Spa Scottsdale for hosting our group and providing accommodations for Sal, to Bill Johnson for donating his LCD projector and to SuperShuttle/ExecuCar for providing Sal with transportation. Our raffle donors were: Wyndham San Diego at Emerald Plaza, Hornblower Cruises and Events, SeaWorld, Enterprise Rent-A-Car, America West Airlines, The Butler Recommends, Aji Spa at Sheraton Wild Horse Pass, Jillian's, Neon Now, Broadway Palm Dinner Theatre and Ranger Resources.