Understanding Conference Centers
A May Meeting Recap by Meredith Eckhardt, inVison Strategic Marketing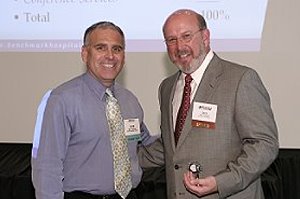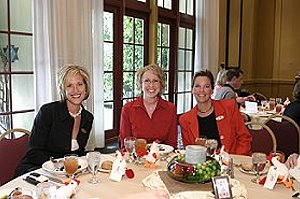 In the hospitality industry, the term 'Conference Center' is one of the most misunderstood phrases by the customer. A conference center is a full service hospitality entity that specializes in accommodating small to medium sized meetings.
Jack Schmidt, chief marketing officer, Benchmark Hospitality, operators of 28 resorts, hotels and conference centers across the U.S., clarified the differences between conference centers and resorts and hotels. So, what makes a conference center different from a hotel?
Uniquely designed facilities and equipment
Common standards and practices
Food and Beverage
Conference Planning Department as a Profit Center
Pricing and packaging of the "experience," complete meeting package (CMP)
As a rule, conference centers typically draw 60 to 90% of their business from the small meetings market and attract customers with "meetings with communication as the primary objective," such as corporate groups looking to hold training, sales, strategy, planning and board meetings.
Unfortunately, Schmidt explained, the hotel industry has "trained the customer to focus on the cost of the guest room versus the total cost of the experience," resulting in customer complaints such as being quoted the CMP price versus room rates. What we need to have the customer understand is the complete meeting package, which includes:
Dinner on the night of arrival
Overnight guest room accommodations
Breakfast, lunch and continuous refreshment breaks
Conference space
Standard/basic audio visual equipment
Service Fees (on package inclusions)
A dedicated conference service manager
Additionally, we need to emphasize the benefits of hosting a meeting in a conference center to the meeting planner, as well as the attendees, which include:
A distraction free environment
Quality dedicated meeting space available 24/7
A/V equipment packaged
All inclusive packaging
Easy budgeting
After discussing the benefits of the CMPs that conference centers offer their corporate meeting guests, many may wonder how hotels can compete with conference center packaging. Schmidt recommended the following:
Ask yourself if your property has the appetite to be different.
Don't try to be what you can't or don't want to be. Do what you do well.
Get operations involved in the sale.
You must have the commitment and understanding from the top.
Compete on the merits of your product and service.
Capture of all incremental revenue.
More referrals &higher repeat factor.
Jack Schmidt has been in hospitality sales and marketing for 26 years, spending most of his career working with casino hotels and conference centers. He is currently the chief marketing officer for Benchmark Hospitality and the incoming chair for HSMAI's Americas Region Board of Directors.
A special thank you to Jack Schmidt for sharing his expertise with us, to the Caleo Resort &Spa for hosting us at their beautiful venue (and the delicious menu!), and to the Education Committee for arranging another wonderful, informative meeting for our chapter. An additional thank you to Bill Johnson for his LCD projector and to Eric Bahr, Bahr Photography for the photo memories.