2003 CHINESE AUCTION
"Year of the Sheep"
An Event Recap by Staci Bishop Glass, Children's Angel Foundation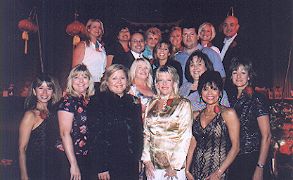 What do you get when you mix sheep shearing (ok, they were not sheep!), delicious food, exciting auction prizes, hilarious entertainers and approximately three hundred of Arizona's best hospitality, sales and marketing folks? You get the 21st Annual Chinese Auction sponsored by the Arizona Chapter of the Hospitality Sales and Marketing Association International! Yep, folks! On Thursday, June 19, some "big doin's" happened at the Scottsdale Resort & Conference Center with a portion of the proceeds benefiting the Children's Angel Foundation. This year's event theme was based on sheep due to the fact it is the Chinese "Year of the Sheep".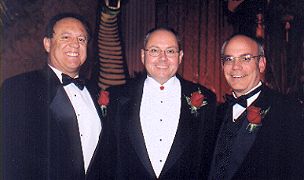 With four incredible auctioneers, including our own Dave Rosenbaum, with the Tempe Mission Palms, Ray the DJ, comedic magician Robb Weinstock, and the always wonderful Bill Morton of Sheraton San Marcos, the evening was filled with laughter and non-stop fun.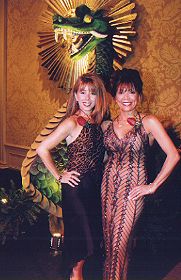 Our "Vannas" for the evening, Alma Pink, with the Radisson Poco Diablo Resort and Yvette Koebke of Sunstone Hotels, were beautiful and added sparkle to the event! Their participation is always appreciated!
The auction prizes were better than ever this year! The highlight of the evening was when Dave Rosenbaum and Ray the DJ were on the "shearing block." Guests yelled their live bids against each other to see the gentleman sheared! Both were good sports as their hair was sheared on stage! This was definitely one of the many moments not to be forgotten!
Fun was had by all but the serious message about the Children's Angel Foundation was shared by CAF's Past President, Andrea Seratte and current CAF President, Linda Ruby, Radisson Resort and Spa Scottsdale. CAF is the fund raising "arm" for Hacienda, Inc (long term and transition care for chronically ill and disabled infants, children and young adults) and Los Ninos Hospital (pediatric hospital in Phoenix) was the beneficiary for this worthwhile event.
On behalf of Kathi Overkamp of America West Airlines (event chairperson), her planning committee, and the children served by the Children's Angel Foundation, a special thank you to everyone who participated! It was an evening that will be remembered! If you didn't make this year's Chinese Auction, it is really too baaaaaaaad (said in my best sheep voice)!

Thank You To Our VERY Generous Chinese Auction Sponsors!
Absolutely Fabulous Events
Shirley LaFleur/Bernie Gaps - 1-866-ABSOFAB
America West Airlines
Kathi Overkamp (480-693-5030)
Brede Exposition Services
Bob Holman (602-275-5900)
Casino Arizona
Tammy Rangel (480-850-7777)
Club Sunterra/Sunterra Resorts
Cheryl Street, CHSP, CHME (623-873-2147)
Mardi Gras Costumes
Oscar Gibson (480-948-4030)
Scottsdale Resort & Conference Center
The Media Center @ Scottsdale Resort
& Conference Center
Paul Bashaw (480-991-9000)
Merestone Productions
Tom DeLeon (480-945-463)
P.F. Chang's China Bistro
Leslie Boespflug (480-367-2999)
Photography by Sandy Baker
Sandy Baker (602-908-1772)
Salon Trevett
Marissa McMullin (480-423-0405)
Sunstone Hotels
Yvette Koebke (602-321-5059)
Thunder Thoughts
Bob and Joan Guidry (602-234-0184)
Tri-Rentals Party Specialists
Terry McDonald (602-232-9900)
Williams & Associates
Chip Headman (480-829-9220)
and
Emcees David Rosenbaum (480-317-1562),
Ray Grace (480-921-9665)
and Robb Weinstock (602-740-923)
Auctioneer Bill Morton (480-857-4411)
"Vannas" Alma Rosa Pink (480-718-7077)
and Yvette Koebke (602-321-5059)