Santa's Summer Safety Splash

August was
Drowning Impact Awareness Month
in Phoenix and the Special Projects Committee held its annual Santa Summer Safety Splash, Saturday, August 7th. The event was covered by Fox 10 News, and featured commentary by Trish Owen, Summerfield Suites Sales Manager, and spokesperson for the event.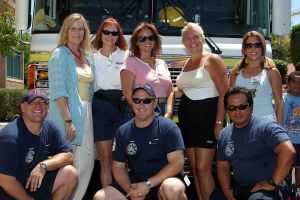 Summerfield Suites Resort hosted the event again this year and provided a welcoming and fun environment for all in attendance. Twenty-five children from the Salvation Army arrived in style, in shuttles generously provided by Super-Shuttle, and were treated to a day of fun including lunch, swimming and a surprise visit from Santa's Elf. In addition, the Rural Metro Fire Department made a dramatic entrance in their firetruck and made a huge impact with the kids to help them learn about water safety.
Santa's Elf handed out "Back to School" backpacks loaded with donations from the generous members of HSMAI, Sam's Club, Costco and the Scottsdale CVB. Additional thank yous to Kelly Austin, Doubletree Paradise Valley Resort, Frito-Lay, Cheryl Street Graphics, and to HSMAI members for their donations: Loreto Bay Group, Rich Bardon, Carol Ackerman and Mike Friend. Photo credits and a special thank you to Eric Bahr Photography, who for two years has photographed this extraordinary day of laughter and joy.