September 2003
Annual Golf Tournament
At Whirlwind Golf Club at the Sheraton Wild Horse Pass Resort & Spa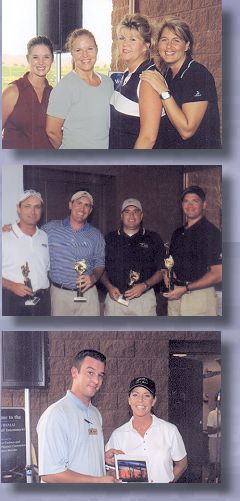 Golf Tournament A Huge Success
Gorgeous weather, a beautiful venue, numerous and generous sponsors, great raffle/auction prizes, and 125 enthusiastic golfers... all a great mix for a record-breaking HSMAI Annual Golf Tournament.
The event, co-sponsored by the Greater Phoenix Convention & Visitors Bureau and Gila River Casinos, was held in September at the Whirlwind Golf Club at the Sheraton Wild Horse Pass Resort & Spa.
Thank you to chair Karen May and the committee (Tiffany Nelson, Kris Strauss, Angela Armstrong, Penny Goodan and Bill Mesa) who worked very hard to make this such a successful event, netting almost $10,000 for our chapter scholarships, administration and educational programs.