SEPT. MEETING RECAP
Hotel Security for Travelers

by Allison Reynolds, Broadway Palm Dinner Theater


Don't be cheap when tipping the hotel bell staff. Over do it, frankly. In fact, when you first check-in, tip generously. That way, when you ask a bellman to accompany you to your car when it's dark outside, they will come readily. It could be the best $5 you spend! And, to ensure your safety, it's the least expensive insurance plan out there!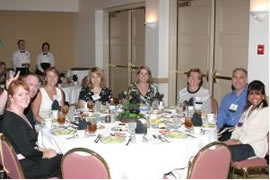 As a woman in the travel industry, I found Mr. Naumowich's presentation to be very insightful and useful. He touched on real life scenarios that could threaten our safety. I gleaned many practical tips, such as making sure I park my car as near to the lobby and/or street lights as possible. I also learned to ask the front desk staff to write down my hotel room and show it to me, as opposed to saying it out loud when checking-in. It could be overheard by a lurking psycho waiting to attack me! Or not…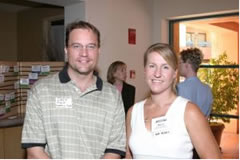 Overall, Mr. Naumowich shared his experiences based on global travels during the past 30 years. He offered us his perspective on today's travel realities. His presentation included themes such as terrorist threats, picking the right accommodations, parking your vehicle, using "on star" and cell phones, staff security awareness, check-in and room selection, as well as security tips to protect you.
Michael Naumowich travels worldwide working for global corporation's security departments. He conducts investigations and surveys, scouting resorts and hotels for executive and celebrity protection. He said: "With lodging and accommodations readily available at competitive prices, safety and security should be the tie breaker when deciding where to stay." Mike Naumowich.