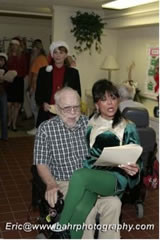 On December 16th, 10 festive, HSMAI carolers, boarded the Salty Senorita Shuttle Bus and proceeded to serenade senior citizens at the Springs of Scottsdale, Villa Ocotillo, and the Scottsdale Nursing and Rehabilitation Center. Alma Pink, our merry elf, while dancing and prancing about, encouraged the residents to join in the singing.
Although we cannot claim that we were always on key, our enthusiasm was contagious. Many of the seniors sang along at the top of their voices. We were amazed that most actually knew the words by heart! Thankfully, Cheryl Street had created songbooks for us. Couldn't imagine actually memorizing the 12 days of Christmas!
Talented Tamara Meyer decorated and donated four Christmas wreaths. One for each of the senior's residences and one for the Salty Senorita Restaurant as a thank you for donating their bus for the event.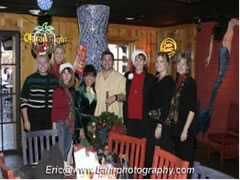 A grand time was had by all, seniors and carolers alike! Special thanks to the Salty Senorita for donating their bus, Eric Bahr photography for capturing the memories, Cheryl Street for creating the songbooks, Tamara Meyer for donating the wreaths, and Alma Pink for bringing joy and laughter to us all. In one resident's words, "it coulda bin boring without the elf!"