"Undersea Fantasy"
HSMAI's Annual Holiday Party and Awards Gala
An Event Recap by Pam Patterson, CMP
The year's holiday gala held at the Orange Tree Golf Resort was definitely "Fintastic"! The Special Events Committee embraced our 2005 President's theme by producing an Undersea Fantasy gala dinner complete with Spongebob Squarepants, Ariel the Mermaid and undersea bubbles. Merestone provided some "fishy" décor and Neon Now made our tables glow with tropical fish centerpieces.
Our other fabulous sponsors included, BBJ Linen, Brede Exposition Services, Party Animals, Picture Phoenix, Ranger Resources, Ray the DJ, Road to Success Marketing, Scottsdale CVB, Southwest Airlines and US Airways.
The emcee was our very own Past President Clark Rowley and the evening's events included a check presentation to Children's Angel Foundation for $2,000.00, collection of toys for CAF, the installation of the 2006 Board of Directors, the Years of Service Awards and several Chapter Awards of Excellence (see page 4 for a complete list and more photos).
Finally, we had the "passing of the gavel" from Cheryl Street to our new 2006 "Arizona Chapter" President, Bob Holman.
On behalf of the Special Events Committee, we want to thank everyone who made this gala a successful and fun event! THANKS!
Our Gala Slideshow!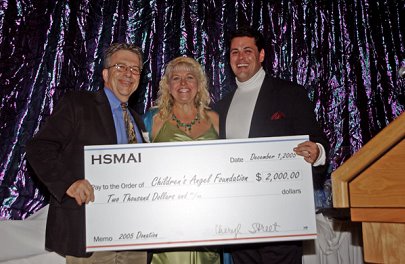 HSMAI Greater Phoenix Chapter
2005 Awards of Excellence Recipients
Members of the Year
Alma Pink and Lynne Wellish, CMP
Board Member of the Year
Melanie Volkers
Sponsors of the Year
Brede Exposition Services and Ranger Resources
Committee of the Year
Special Events Committee
Hospitality Sales & Marketing Professional of the Year
Tara Thain, CHME
Host Property of the Year
Caleo Resort & Spa
General Manager of the Year
Mike Shannon, Brede Exposition Services
Lifetime Achievement Award
Patti Sacco
President's Achievement Award
Clark Rowley, RRP
Rising Stars of the Year
Byron Marlowe and Becca McHaas
Student of the Year
Amy DeLano/NAU