Annual "Go Hog Wild" FUNRaiser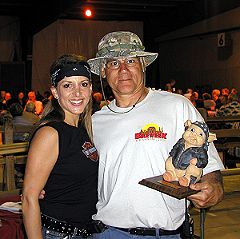 Motorcycles, racing, parties and tours - they could mean only one thing - the Phoenix HSMAI Chapter's April "Go Hog Wild" FUNRaiser on April 1st at Rawhide! Actually, they signify both the spring "Fun" Raiser and the convergence of thousands of motorcyclists to Scottsdale and other parts of the Valley for the eighth-annual Arizona Bike Week.
There were events all over town, from the Kickstart Party at Hacienda Harley-Davidson to Rawhide, the host for Cyclefest, which included a wide variety of bike shows, displays, more than 150 vendors, contests and live music as well as our spring "Fun" Raiser.
Members showed up in their biker gear to enjoy cocktails, steak dinners, the silent auction and all the Cyclefest activities. Even an unexpected rain and windstorm that blew into the Pavilion couldn't stop the fun.
The silent auction was a success and included great items such as:
A Gourmet basket from The Butler Recommends
A Neon Bike sculpture from Neon Now
A Two night stay in a signature suite and breakfast for two at the Hotel San Carlos
Dinner for two at Fogo y Brasa Steakhouse (donated by America West Magazine)
Dinner for two at Ristorante Sandolo and a gondola ride at the Hyatt Gainey Ranch
Two tickets for America West Airlines
Thank you to all who contributed and put in hours of work so we could enjoy a fun-filled night, including the folks at Rawhide who hosted this very special evening, to Outback Productions for letting us join in on the festivities of Arizona Bike Week, to Ray the DJ for the great music, and to our other generous sponsors, Brede Exposition Services, America West Airlines, Sunterra Resorts, Photos Plus and Ranger Resources. We also thank the members of the Special Projects Committee: Jennifer Carter, Jay Eckhardt, Janet Hof, Diane Huffmaster, Jessica Johnson, Tamara Meyer, Trish Owen, Alma Pink, Sandy Rimmer, Kelly Riordin, Corissa Speisman, Cheryl Street and Joanne Winter.