HSMAI's 24th Annual Chinese Auction
An Event Recap by Kelly Murphy, CHME, Fox Sports Grill
Take 283 guests, 23,100 quarters and two enthusiastic emcees and what do you get? The 24th Annual Chinese Auction, of course. The event was held at the beautiful, and very accommodating Radisson Fort McDowell Resort and Casino on June 22, 2006. The theme was carried out to a tee. Everything from the red fire hydrant centerpieces to the bone shaped auction paddles left no doubt it was the "Year of the Dog." Many HSMAI members and their guests also helped out with the theme by sending in their favorite dog photos which were shown during dinner accompanied by a doggie music montage prepared by Ray the DJ. It really set the mood for the night, but more importantly, raised monies for our chapter, student scholarships and the very deserving Children's Angel Foundation. The event raised an incredible net profit of $22,283 which exceeded the committee's expectations.
This year's event would not have been as successful had it not been for the very hardworking committee members whose creativity and dedication made for such a wonderful evening. Everyone rose to the lofty goals that were set and assisted in guaranteeing 20 corporate table sponsors, 75 incredible silent auction items, over 100 quarter raffle items and the many decorative details that embellished the room.
For those that were able to attend the event we thank you in helping us reach our goals and hope that you had an enjoyable evening. For those that missed it... please consider attending, donating or volunteering next year. It is a special night that should not be missed.
THANK YOU TO THE FOLLOWING GENEROUS SPONSORS OF THE 2006 HSMAI CHINESE AUCTION
American Audio Visual
Bahr Photography
Brede Exposition Services
Cactus Flower
Fort McDowell Casino
Hyatt Regency Scottsdale at Gainey Ranch
Merestone Productions
Paper Crazy by Thunder Thoughts
Radisson Fort McDowell Resort & Casino
Rick Lehman Auctioneering
Road to Success Marketing
Sandy Baker, Photographer
Southwest Scenic Group
Sue Hershkowitz-Coore, CSP
Sunstone Hotels
US Airways

And a Special Thank You to the following:
Emcees David Rosenbaum, CHME and Ray Grace,
Auctioneer Rick Lehman, and
"Vannas" Alma Rosa Pink and Yvette Koebke

(l t r): Dave Rosenbaum, Alma Pink, Rick Lehman, Yvette Koebke and Ray Grace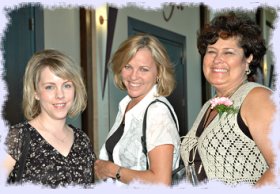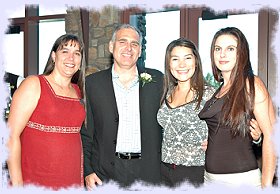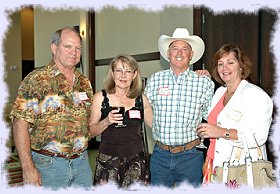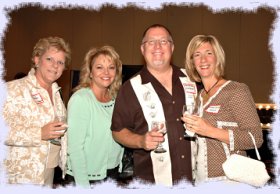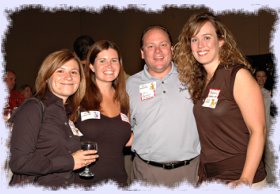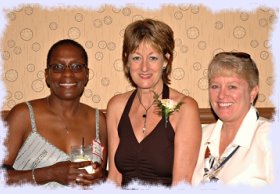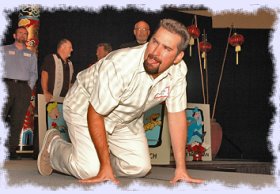 2006 Chinese Auction Committee