NOV. MEETING RECAP
by Allison Reynolds

Trade Show Tips and Tricks:
How to Maximize Your Trade Show Experience
I couldn't write fast enough. The tradeshow tips were coming too quickly. What if I couldn't get it all down!? This was amazing material. AAAARRRRGGGGHHHH! Well, forget the stress, I just had to buy the book!
But which book!? Susan Ratliff, has written 3 books on event marketing, and each one is packed with invaluable information from her extensive exhibiting experience. Susan shared a generous portion of knowledge with us at last November's meeting. If you missed the meeting, you truly missed out on an enriching education!
The meeting was entitled "Tradeshow Trends and Tips… Maximizing the Exhibiting Experience," and was held at the Sheraton Phoenix Airport on Thursday, November 18, 2004. The food and staff were exceptional.
HSMAI attendees gleaned gems of knowledge, including tradeshow trends such as the facts that tradeshows generate 90 billion dollars per year and 80% of tradeshow attendees base their opinion of the company on the actions of the person working behind the booth! The presentation emphasized the importance of a well-trained staff that can present a professional image for their company. Susan shared various tips such as what it takes to be successful, what challenges are most critical, ideas on creating a dynamic display, what makes a company competitive and new trends in the marketplace.
Susan is nationally recognized as an expert in the field of tradeshow exhibiting. Her company, Exhibit Experts, offers superior display products, exceptional service and award-winning experience to guarantee measurable results at tradeshows and events. Her creative ideas and hands-on experience have educated and motivated owners and employees from the small start-up business to the Fortune 500 Company.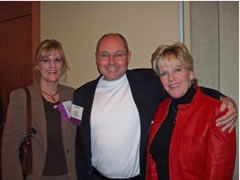 It was a great meeting and many thanks to the Education committee for their choice in a speaker and Susan Ratliff for her amazing presentation! If you missed the meeting, be sure to buy the book(s)! www.exhibitexpertsaz.com