December, 2003
"A Night Among the Stars"
HSMAI Annual Holiday Celebration
An Event Recap by Debby Harloff, Hilton Phoenix Airport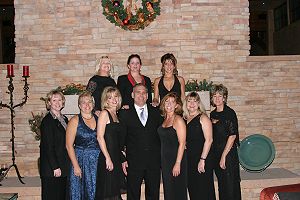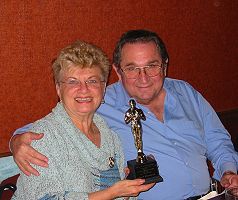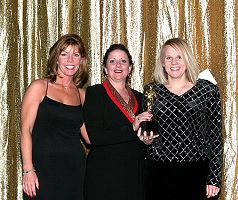 Stars, glamour, red carpet... what a perfect setting for the end of the year gala to celebrate our achievements from the past year. The perfect setting took place at The SunBurst Resort, and the evening proved to be filled with festivities and elegance. Many thanks to Tori McLaughlin, Rich Guldin and their staff for hosting our end of the year gala event.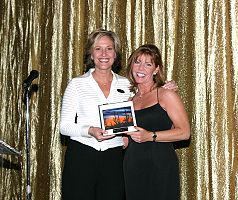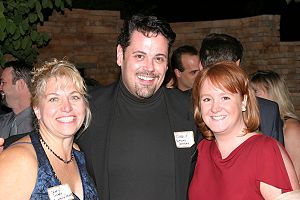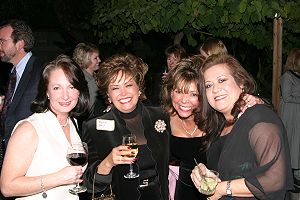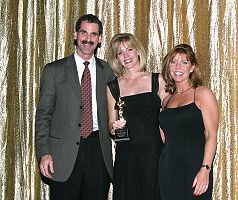 The evening began in the courtyard of the resort. The backdrop included the waterfalls and torches poolside, firepits and a beautiful early-December evening. All who gathered outside experienced the beauty of the resort at night. Once inside, we were greeted by the resort staff who served the most delicious meal. Inside the room, Hollywood came alive, with thanks to Shawn Hill and the staff of Merestone who donated the props and décor. The evening had begun in such a festive way, and the best was still yet to come! One of the highlights of the evening was the introduction by Linda Ruby who has graciously accepted the reign of our President for one more year. Thank you to Linda who has helped to guide our chapter and grow our membership. 2004 will certainly prove to be a success once again! Linda and the HSMAI Board then introduced the award winners of the evening, installed the 2004 Board of Directors and the evening concluded with the raffle prizes and drawings.
And the winners from 2003 are:
Hospitality Sales & Marketing Professional of the Year
Tiffany Nelson, Westin Kierland Resort & Spa
Host Property of the Year
Scottsdale Resort & Conference Center
General Manager of the Year
Dave Murray, Summerfield Suites by Wyndham
Member of the Year
Allison Reynolds, Broadway Palm Dinner Theatre
Sponsors of the Year
Greater Phoenix Convention & Visitors Bureau and Merestone Productions
Board Member of the Year
Diane Huffmaster, The Butler Recommends
Lifetime Achievement Award
Fredi Blaustein, Blaustein Associates
Committee of the Year
Communications Committee:
Allison Reynolds, Chair
Tammy Rangel, Co-Chair
Cheryl Street, CHME, Board Liaison
Nomi Yitzchaki
President's Achievement Award
Cheryl Street, CHSP, CHME
A very special thank you to our emcee for the evening, Mr. Greg Miller, General Manager, Royal Palms Resort & Spa, and to our sponsors who made this event so special: The SunBurst Resort, America West Airlines, Bahr Photography, BBJ Linen, Brede Exposition Services, Sunterra Resorts, McDonald Floral & Gifts, Merestone Productions, Ranger Resources, Ray the DJ, The Butler Recommends and Thunder Thoughts.
Committee members who worked so diligently were: Linda Ruby, CMP, CHME, Chair, Inn at Eagle Mountain, Diane Huffmaster, The Butler Recommends, Trish Owen, Summerfield Suites, by Wyndham Scottsdale, Alma Pink, Radisson Poco Diablo Resort, Sandy Rimmer, Ranger Resources, Cheryl Street, CHSP, CHME, Sunterra Resorts, Tara Thain, CHME, SuperShuttle, Joanne Winter, HSMAI, and Janet Hof, CMP, LES, Hyatt Regency Scottsdale.
Thank you to all the wonderful vendors and partners who donated to help make the evening a complete success! Happy New Year to all within HSMAI! We all look forward to another successful and eventful year.